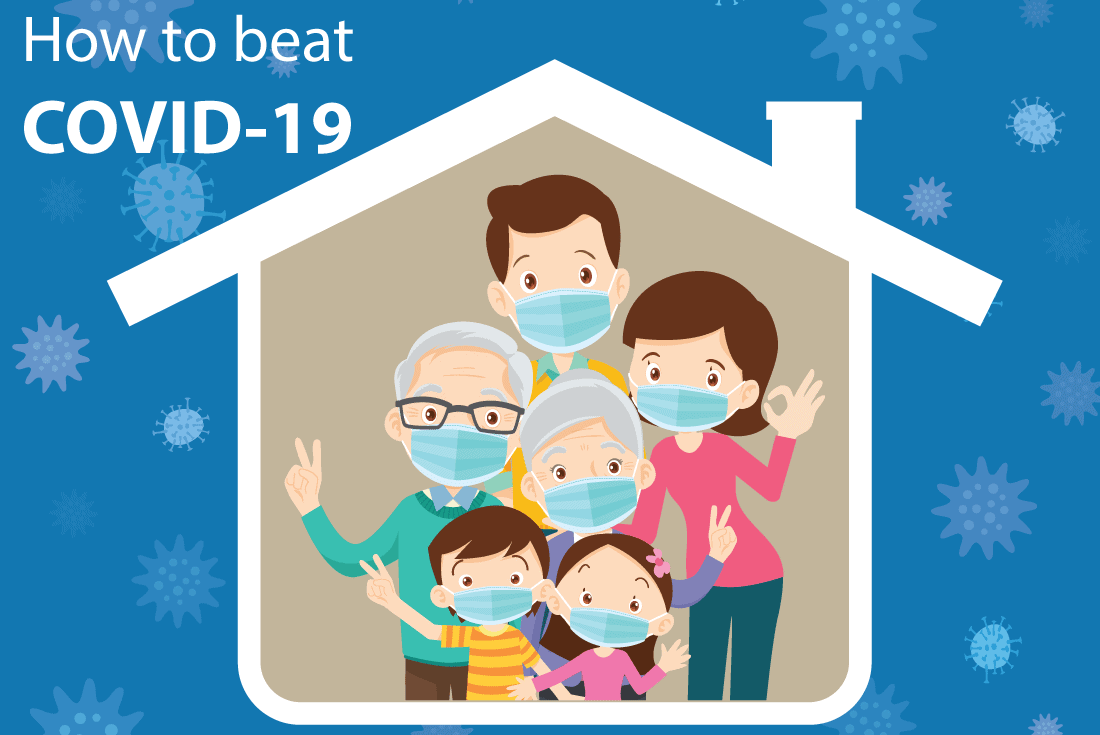 25 Aug

How to Beat COVID-19

Introduction

It is no secret that the coronavirus has been a cause of global concern over the past several months. Since the disease was first reported in Wuhan, China on 31 December 2019, it has rapidly spread to other parts of the world. The World Health Organization (WHO) is working with scientists, world leaders and governments to educate people about this virus and to provide information to countries and citizens about how to prevent contamination.

Here in Australia, the Government has continued their strategy of isolation, quarantine, social distancing, and COVID-19 restrictions to stop the spread of infection. Yet the war against COVID-19 is far from over. The good news, however, is that there are ways to beat COVID-19 and stop it dead in its tracks. Here are some effective ways you can stay safe and beat the coronavirus once and for all.
Follow Hygiene Practices
Respiratory diseases like coronavirus are contagious and are likely to spread through an infected person coughing or sneezing, or through an object that has been contaminated with the virus such as doorknobs, bedside tables, bed frames, light switches, stationery, or any other surface which is near an infected person. The coronavirus can survive on these objects for over a week. It is of the utmost importance to follow adequate hygiene practices. These include:
Covering your mouth and nose when coughing or sneezing with either a medical grade face mask or tissue.
Avoiding close contact with people who have the virus or exhibit symptoms of the virus.
Washing hands (including wrists) regularly with soap and water for at least 20 seconds. This includes before and after eating and using the bathroom.
Sanitising hands with an alcohol-based hand rub should you not have access to soap and water.
Discarding used tissues and personal hygiene items immediately.
Avoiding touching your eyes, nose and mouth.
Maintaining a distance of at least 1.5 metres from other people.
Wearing the appropriate protective masks and personal protective equipment (PPE), especially in a health care environment.
Cleaning and disinfecting surfaces you use such as benchtops, desks, doorknobs, mobile phones, keys, wallets, etc.
Avoiding unnecessary contact with animals.
Washing hands thoroughly after contact with animals.
Ensuring that animal food products such as beef, chicken, fish or eggs are cooked well before they are consumed.
Follow Government Guidelines
The Department of Health website contains up to date information on the COVID-19 pandemic, how you can stop the spread of the virus and what to do if you have symptoms. They also have information on the Prime Minister's Emergency Response Plan for Novel Coronavirus (COVID- 19) and the Government's response to the COVID-19 outbreak.
Some Government guidelines you can implement to stop the spread of the virus include:
Practicing good hygiene and social distancing.
Following the limits for public gatherings in your state.
Understanding how to isolate if you need to.
Check out the Department of Health's website for more details about what you can do to stop the spread of the virus.
Consulting Health Officials 
Another way to steer clear of coronavirus is to stay up to date on the latest coronavirus information from local and international health authorities. Such authorities include:
World Health Organization (WHO)
Centers for Disease Control and Prevention (CDC)
Australian Government Department of Health
Your local medical centre or hospital
Staying abreast of the latest research regarding coronavirus can help you keep yourself, your family and community safe.
Testing  
COVID-19 testing clinics are available around Australia. You should get tested if you have symptoms of COVID-19 such as cough, sore or scratchy throat, shortness of breath, loss of taste or smell, or a fever (37.5° or higher), etc. You should also get tested if you are:
A traveller who has returned from overseas
A school community worker, or
A person who has come into close contact with someone who may have the virus.
You can find the nearest coronavirus testing centre in NSW here.
You can also get more information about coronavirus by calling the National Coronavirus Health Information Line on 1800 020 080.
Conclusion 
As the saying goes: We are all in this together. Now is the time for the global community to come together in the fight against coronavirus. By following the above tips, you will be on the right track in keeping yourself and your family, friends and community safe from coronavirus. If you have any questions about our coronavirus management plan and how we are working to keep our clients, staff and community safe, please contact us on (02) 8729 7610.
References 
Australian Government Department of Health. (2020). Good hygiene for coronavirus (COVID-19). Retrieved from https://bit.ly/2CmSXP8
NSW Government. (2020). COVID-19 testing clinics. Retrieved from https://bit.ly/3kD2QJL
World Health Organization. (2020). Coronavirus disease (COVID-19) pandemic. Retrieved from https://bit.ly/3fSKhhd