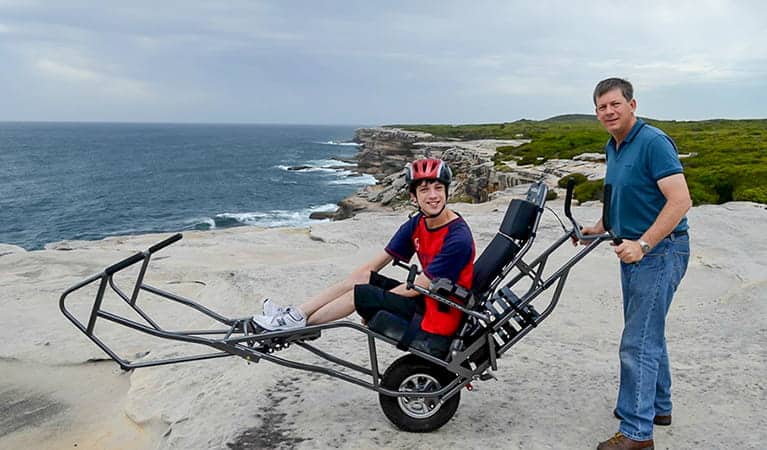 15 Dec

Celebrate Christmas with Accessible tours of NSW National Parks

We are coming up to the Australian Christmas break, a time where families gather to enjoy the festive season and a time where families like to explore some of our iconic beaches, parks and beautiful bush areas.

A major drawback though, for people with disability is finding a beautiful place to explore that is disability accessible.

However, there are places in NSW that people with a physical disability can access. The following list is by no means complete but a great guide to start with:
Wheelchair Accessible Bush Walks in NSW National Parks
The following National Parks have wheelchair-accessible walking tracks:
 Bungoona Lookout and Path
9km family-friendly wheelchair accessible bushwalk
scenic views of Hacking River, with picnicking and birdwatching.
Fairfax Heritage Walking Track
7km graded wheelchair-accessible path over gentle slopes
skirts the edge of a unique hanging swamp.
lookouts and wildflowers with waterfall views over scenic Grose Valley.
O'Hares Creek Lookout Walking Track
2.8km track
located in Dharawal National Park, south of Campbelltown and near Appin.
scenic views and birdwatching.
Skywalk lookout
70m boardwalk – 21m above the rainforest canopy,
connected to the Dorrigo Rainforest
bird lovers paradise,
endless views, of the valleys and gorges
Blue Mountains National Park
Echo Point on the outskirts of the Blue Mountains National park
Three Sisters track 800m returns looking out over the grand scenery.
Fairfax Heritage track
popular for those with limited mobility
8km each way,
gum trees and early Summer you flowers
Other wheelchair friendly spots
There are access friendly walking tracks available across NSW including Sea Acres, Rainforest boardwalk, and Jennifer Street boardwalk in La Perouse.  You can learn more about these walking tracks here.
Extra assistance
NSW National Parks wants people with mobility issues to experience the parks for themselves, and their family and friends. They provide TrailRider and Hippocampe all-terrain mobility wheelchairs for visitors at:
TrailRider
The TrailRider has handles at the front and back, where guides manoeuvre the chair on walking tracks that are not wheelchair-accessible, including up and down stairs. The use of a TrailRider requires a minimum of two guides, (you need to bring your own guides). You can see how the Trail Rider works in this Parks Victoria video.
Hippocampe Mobility Chair
The lightweight, three-wheeled Hippocampe mobility chair can be self-propelled, pushed or pulled along depending upon the terrain. It's suitable for a variety of walking tracks and trails, and can even be used on the beach!
They are free to hire, but be sure to book in advance.
To make an enquiry or booking, contact:
More information is available here.
Financial Access
People with disability and their carers often have greater expenses and less earning power than people who do not have disability. Companion Cards can make the difference between afforadability and unaffordability.
Companion cards
The Companion Card Program allows people with significant and permanent disability to access community activities and events in NSW national parks, without paying extra costs for their carer.
Planning Tips
When you have a disability or are exploring our beautiful state with someone with disability, it pays to plan well beforehand to avoid disappointment, frustration, or anger.
Google Maps
You can explore NSW national parks online using  Google Maps' Street View, a great way to check out the landscape before setting off, or if you are craving the outdoors but not up to a trip have a look at some of Google's views to enjoy a virtual trip.
Staying safe
It's a good idea to let others know about your plans. Wear a hat, bring sunscreen and drinking water.
Check weather conditions and make sure that the tracks are clear beforehand.